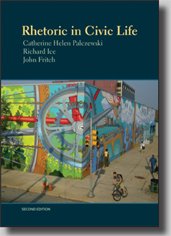 isbn:
9781891136375
2016
320 pages
paperback
photographs

IM:
9781891136382

suggested list price: $95.00
price to college bookstores:
$76.00
Available now!
Rhetoric in Civic Life
second edition
Rhetoric in Civic Life provides a richly textured, conceptually organized introduction to rhetorical theory and concepts. Sophisticated yet accessible, it guides students in exploring rhetorical action in a democratic society.

Interweaving classical and contemporary concepts, the book shows how people in a diverse society shape ideas, make decisions about common concerns, and create social realities through symbolic action.
Thoroughly updated to reflect current theory, issues, and events, the new edition provides a rich array of historical and contemporary examples that show how words, images, arguments, and narratives create social and cultural identities and have consequences to civic life, public discourse and dissent, and social policies.
FEATURES
topical organization interweaves classical and contemporary theories, illuminating rhetorical concepts through the interplay of various perspectives
civic and advocacy emphasis focuses rhetorical concepts in terms of cultural issues and public controversies
substantive, clear, engaging explanations make complex ideas accessible and pertinent to students
abundant historical and contemporary examples illustrate the role of rhetoric in political, cultural, and social contexts, as well as in students' own lives
FEATURES OF THE NEW EDITION
updated examples reflect current issues and controversies, recent events, and the evolving function of rhetorical concepts in public discourse

updated theory and research includes expanded explanation of the complex roles and functions of rhetors (Chapter 6), public emotion (Chapter 7), and networked publics (Chapter 9)
expanded explanations of difficult concepts, with increased emphasis on the classical roots of contemporary theory
increased emphasis throughout on digital discourse and social media illustrates their growing role in civic action
PEDAGOGY
key concepts listed at the beginning of each chapter
discussion questions at the end of each chapter
recommended readings for each chapter
instructor's manual




COMMENTS FROM PROFESSORS
From the Back Cover
"This text stands alone in its coverage, prose, and use of real world and updated examples. It has been the perfect textbook for my course."
Isaac West
Vanderbilt University

"I very much like and appreciate the conceptual orientation of the book. The examples superbly illustrate the concepts."
Roger Aden
Ohio University

"A great text overall! It shows how rhetoric is useful or applicable to civic participation and democratic practice."
Billie Murray
Villanova University

"I appreciate the care that the authors took in their choice of materials. They took the leading literature and big debates in our field and made them accessible to students unfamiliar with the field of rhetoric."
M. Kelly Carr
University of Baltimore

"Rhetoric and Civic Life is a very relevant book that is well structured and very well written. The text provides students with a strong foundational knowledge of rhetoric."
Janice Hamlet
Northern Illinois University

"The book is written with admirable clarity, conciseness, and consistency, without sacrificing the substance of concepts or the integrity of theoretical positions."
Bryan C. Taylor
University of Colorado Boulder
"The addition of digital publics is well done."
Christine Harold
University of Washington

"The changes, particularly through the updating and streamlining of examples, make the text even more attractive."
Nate Kreuter
Western Carolina University


ADDITIONAL COMMENTS
"It's a great book. I look forward to using it for many years to come."
Paul Stob
Vanderbilt University

"Rhetoric in Civic Life is a fantastic resource."
Brandon Inabinet
Furman University

"Excellent book overall!"
Tony Palmeri
University of Wisconsin–Oshkosh

"I really appreciated what the book allowed me to accomplish with my class."
Kara Shultz
Bloomsburg University

"This is an outstanding book!"
Ross Singer
Saginaw State University

"I am proud to use this text."
David M. Lucas
Ohio University

Civic/Advocacy Focus
"It covers key concepts in rhetorical theory and criticism, vital to understanding the connection between rhetoric and public advocacy."
Tony Palmeri
University of Wisconsin–Oshkosh

"The discussion of e-mail, petitions, Twitter, and Facebook as civic platforms through the chapters are all very topical to my course."
Heather Lettner-Rust
Longwood University

"I liked the civic engagement focus of this text. I want rhetoric to be relevant to students' lives."
Elizabeth Chiseri Strater
University of North Carolina, Greensboro
Examples
"I appreciate all the new examples and case studies in the revised edition."
Alina Haliliuc
Denison University

"The examples to illustrate concepts are one of the textbook's major strengths. While students also need the historical examples, the contemporary examples resonate more with the students and lead to wonderful critical engagement in the classroom."
Janice Hamlet
Northern Illinois University

"The authors have taken care to keep examples up to date and accessible to students."
Heather Ashley Hayes
Whitman College
Student Reactions
"The discussion of identification and audience is fantastic! My students 'get it' after that—it really helped them to see what they are doing."
Ilon Lauer
Western Illinois University

"The students find it accessible and informative. They enjoy the textbook, including its organization and the prose."
Isaac West
Vanderbilt University

NEW EDITION
"The new edition keeps up with new scholarship in the field, which is vitally important for my majors who are considering going on to graduate school."
Heather Ashley Hayes
Whitman College

"I think students will find the addition of networked publics interesting and timely."
Billie Murray
Villanova University

"The updates make the textbook even better. The updates are relevant, compelling, and insightful examples of the theory you are introducing."
Heather Lettner-Rust
Longwood University

"The major strength of this revision is the update to even more contemporary examples. These examples span a wide spectrum of political positions and audience interest, and are followed with well-balanced discussions of various interpretations of and reactions to the events."
Leslie Wolcott
University of Central Florida
ABOUT THE AUTHORS
Catherine Helen Palczewski is professor of communication studies, former director of debate, and an affiliate faculty member in Women's and Gender Studies at the University of Northern Iowa. She received her BS, MA, and PhD from Northwestern University. She teaches courses in rhetorical theory, the rhetoric of social protest, rhetorical criticism, argumentation, gender in communication, and political communication. She has served as coeditor of Argumentation and Advocacy and has published essays in that journal, as well as in the Quarterly Journal of Speech, Communication Studies, NWSA Journal, and the Southern Communication Journal. She has also published numerous book chapters. She has served on the editorial boards of the Quarterly Journal of Speech, Argumentation and Advocacy, Women's Studies in Communication, Communication Studies, Controversia, Communication Monographs, and the Southern Communication Journal. She has received the Francine Merritt Award for Outstanding Contributions to the Lives of Women in Communication, the Iowa Regents Award for Faculty Excellence, the University of Northern Iowa College of Humanities and Fine Arts Faculty Excellence Award, the George Ziegelmueller Outstanding Debate Educator Award, and the Rohrer Award for the Outstanding Publication in Argumentation. In 2001, she was the keynote speaker at the AFA/NCA Summer Conference on Argumentation, a conference she directed in 2013. She edited the selected works, Disturbing Argument, from the 2013 conference.
Richard Ice is professor of communication and provost at the College of St. Benedict and St. John's University. He received his AB from Wabash College. He received his MA and PhD from the University of Iowa. He teaches courses in rhetorical analysis, classical rhetoric, freedom of speech, public address, group communication, and organizational communication. He has published essays in Management Communication Quarterly and Communication Quarterly, as well as several book chapters. He has received the St. John's University Robert L. Spaeth Teacher of Distinction Award and the College of St. Benedict / St. John's University Academic Advisor Award.
John Fritch is professor of communication studies and dean of the College of Humanities, Arts and Sciences at the University of Northern Iowa. He received his BA from the University of Nebraska–Lincoln. His MA and PhD are from the University of Kansas. He teaches courses in rhetorical theory, language and communication, and ethics. He coedits Argumentation and Advocacy. He has published essays in that journal, as well as in the Southern Journal of Forensics, several editions of the published papers of the biannual NCA/AFA conference on argumentation, and A Century of Transformation: Studies in Honor of the 100th Anniversary of the Eastern Communication Association. Formerly, he was the director of forensics at Southwest Missouri State University. Currently, he is the director of the National Debate Tournament. He has received the Donn W. Parson Young Educator Award, the Outstanding Teaching Award from the College of Arts and Letters at Missouri State University, and the Outstanding Graduate Faculty Member in Communication Studies Award at Missouri State. He was recognized as a Centennial Scholar by the Eastern Communication Association.